One of our favorite meals is a vegetarian vegetable curry soup over rice, with or without grilled chicken. We like this curry for multiple reasons; first it is delicious, second, it lets us use up vegetables that are on the brink, and third, it freezes well and lets us pop out a dinner on very short notice.
When we first started making this curry we would make a standard soup pot full, about enough for a dinner and maybe a left over. Once we discovered how much we liked it we started making bigger and bigger pots. Now we are using our big canning pot and making about three and a half gallons at a time. This soup freezes well and heats up to a quick and delicious dinner.
The soup is mostly a mix of vegetables and fruit, curry spices, and coconut milk. The flavor is a mix of sweet, spicy, and creamy. We usually pick a mix of vegetables and fruit that end up being sweet when tasted alone, then we add enough curry to give it a bite, and then mix in coconut milk to give it a delicious creamy flavor.
In our curry we usually start with a base of onion, cauliflower, carrots, and apples. Then we mix in whatever extra vegetables we have in the crisper that we want to use up before they go bad. Historically we have tried adding peppers, spinach, broccoli, kohlrabi, cabbage, and pears. The recipe is not exact, use what you have, or keep it simple if you want a simpler taste.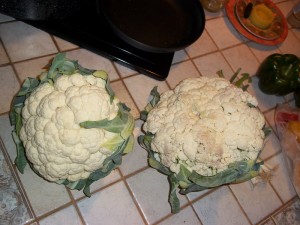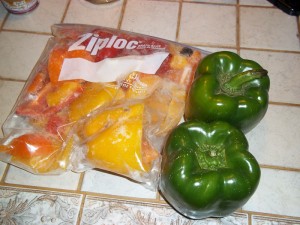 Step one is to wash, sort, and trim the produce. I usually wash all of the vegetables and fruit, then I trim off the ends and any bad spots. I core the fruit and toss out any obviously bad leaves or stems. I usually leave the skins on and cook them into the soup. I do not add in the greens from the vegetables.
Step two is to dice up the produce, mostly just to have it pack in tighter and cook quicker.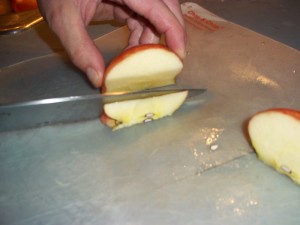 Step three, add all of the chopped fruit and vegetables into an appropriately sized pot and add water to just under the level of the produce.
Step four, boil the produce for anywhere from a half an hour to an hour and a half depending on the quantity and mix of vegetables. Soups heavy on carrots and other root vegetables will likely need to boil a bit longer. Test the softness of the vegetables every ten minutes or so after the first half hour to get a feel for the progress. You should be able to easily stick a fork into the produce when it is cooked.
Once everything is nice and soft it is time to blend it. Turn down the heat from high to a mid range temperature. You want the soup to stay hot and continue to simmer but not to fully boil.
To blend the soup you MUST use an immersion blender. Do not try to use a mixer or counter top blender. You are working with a pot of boiling hot vegetable paste. You really need to keep all of the hot soup in the pot and bring the mixer to the pot, not the other way round. I happen to use a Kitchenaid Variable Speed Immersion Blender. I like the extra length, the metal construction, and the variable speed. We used to use a simple all plastic immersion blender when we were making smaller pots of soup but the larger batches really need the extra length of a bigger blender.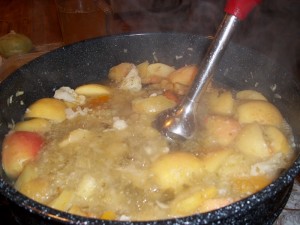 The soup will start out chunky and lumpy but will eventually blend down smooth.
Once the soup is blended you can taste it to see where it stands. We typically add in a pinch of salt to get the flavors to pop.
At this point the soup is probably very vegetable, or possibly apple, tasting and is probably a bit on the sweet side. Between the carrots and the apples the base has a very sweet natural flavor. Now you are ready to add the curry. We use a curry paste we buy at our local Asian market. You should be able to find a bunch of different flavors. We tend to like the Red Curry Paste best with Masman or Panang next. Once you've opened the paste you need to store it in the refrigerator. This step, the adding of the curry, is a very personal thing. Add in a little bit of curry at a time, maybe a tablespoon at a time depending on the size of your batch of soup, and mix it thoroughly into the still simmering soup. Use the immersion blender to make sure the curry is well dispersed. Keep adding curry until you get the bite you want. The three and half gallon batch we just made took almost a full cup of curry paste. Remember you will be adding coconut milk which will mellow the flavor. I like to go a bit on spicier side and then mellow it out with the coconut milk. Be careful though, it is easy to let the curry get away from you and make a batch with a bit too much bite.
As you mix in the curry taste as you go. Add curry until the soup has the bite you want. Besides the coconut milk keep in mind what you will be serving the soup with. If you are putting the soup over rice the rice will also act to buffer the spice.
After the soup is spiced to taste turn off the heat. We are about to add the coconut milk and you don't want to cook the coconut milk. You want the coconut milk to melt into the hot soup but you don't want to over heat the milk. Again, turn the heat off under the soup and then add the coconut milk. The amount of coconut milk will depend on the size of your batch of soup and your taste.
After the coconut milk is mixed in the soup is ready. If you just made enough for one meal your dinner is ready, serve and enjoy. If you made extra let it cool and freeze it in appropriately sized batches. When you need a quick dinner grab out a frozen batch of soup, put it in pot to heat while you make the rice. If you make long cook rice your soup should be hot about the time your rice is done. You can have a hot delicious meal in about a half hour.
Here is the recipe. Remember this soup is done to taste. Add in more or less curry and more or less coconut milk depending on your taste. Pick vegetables and fruit that you like or have handy.
Our soup:
1 to 2 heads of cauliflower
5 to 12 carrots
5 to 24 apples
1/4 to 1 sweet onion
Optional vegetables and fruit:
peppers
spinach
broccoli
kohlrabi
cabbage
pears
other readily available produce to your taste
Wash, trim, and chop the produce.
Add the produce to a pot, add water and bring to a boil.
Boil the produce until soft to a fork.
Blend the produce using a hand immersion blender until smooth and well blended.
Add a pinch of salt to taste.
Blend in curry paste a little at a time to taste.
Remove from heat.
Stir in coconut milk until well mixed. Add coconut milk to taste.
Done.